As confirmed by the officials, the UFC is looking at Strawweight title fights in April. And the potential fight will involve the bout Zhang Weili vs Rose Namajunas. The MMA fighting officials have confirmed the prospective championship fight matchup, specifically for the upcoming UFC 261. The event is going to take place on April 24, 2021. While the date is available there. There has not yet been an official announcement of the venue of the match and its location. As usual, ESPN hugely reports the reservation for the coverage.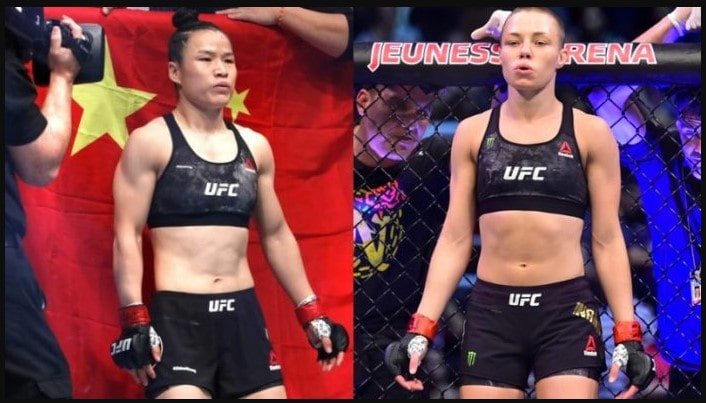 Back in 2019, Weili marked her 20th consecutive victory after winning over Jessica Andrade. She marked it in August 2019. She managed to defend her championship title in one of the most memorable fights in UFC history. As she wins, she earned it by split decision after winning over Joanna Jedrzejczyk at UFC 248 back in March 2020.
In the upcoming fight, the title is on the stake. Meanwhile, Namajumas is striving for the next UFC champ for the second time in her entire UFC career. The fighter marked the title after victorious over Jedrzejczyk at UFC 217. Then she won again over Jedrzejczyk in UFC 223. But then, her step was stopped after losing the title to Andrade at UFC 237. A year later, she managed to win over Andrade at the Fight of the Night at UFC 251.
While the latest opponents will be filling the main card, Andrade will also be in the sub-event Fight Card since she will take on Valentina Shevchenko under the flyweight division title.
So, when it comes to the upcoming bout, Rose Namajunas will have the chance to win her title back in the Strawweight division.
The mass medium trustworthy source has nodded to this news. It is not a rumor anymore. Namajunas is going to fight the current Champion Weili Zhang at the UFC 261 on April 24, 2021. It is still a few months away until the moment of truth happens but we can feel the real hype here. However, we should wait for a longer time to confirm the venue of the event and its location, as well as the starting time of the bout. For the Carla Esparza fans, you must wait for a longer time until your favorite fighter gets back in the Octagon to claim the title.
Although the venue is yet to be there to announce, we are pretty sure that it will take place in Las Vegas, Nevada. In the upcoming fight, Weili Zhang will be putting her title on the line. It is going to be the next title defense.