If you want to know about UFC 269 start time, channels, PPV cost, fight card, and how to watch UFC 269 live stream online from anywhere. This content will guide you.
The event will be headlined by a UFC Lightweight Championship fight between current champion Charles Oliveira and former interim champion Dustin Poirier. The Bantamweight Title Is On The Line In The Co-Main Event between current champion Amanda Nunes with Julianna Peña.
UFC 269 will take place on December 11, 2021, at the T-Mobile Arena, Las Vegas United States, and in front of fans.
What is the UFC 269 start time?
UFC 269 early prelims will start at 6:15 p.m. ET. The prelims card will begin at 8 p.m. ET and the main card will start at 10 p.m. ET. UFC 269 main title card Oliveira vs Poirier is expected to start at 12.15 a.m. ET on Sunday.
Want to watch UFC 269 online at home? So let's start!
How to Watch UFC 269 Live Stream Online
ESPN+ has reserved the right to broadcast the full event. If you are up to watch the preliminary fights, you could tune into the UFC Fight Pass and ESPN+. For either of the options subscribers, you could tune into your favourite channel to watch the preliminary fights that will astonish you. But for the main event, you need to purchase the PPV in advance.
If you have subscribed to ESPN+, you just need to purchase the PPV. If you are not a subscriber, you will need to subscribe to the ESPN+ service or pick the bundle that can benefit you the most.
Visit the official site of ESPN. Find the ESPN+ and hit the "Buy Now" Button. You will need to create an ESPN account if you haven't subscribed.
Then you can follow the on-screen instructions to reserve your option to watch the UFC 269. ESPN+ will stream the bout in the market area. So, make sure that your area is within the area coverage first before proceeding.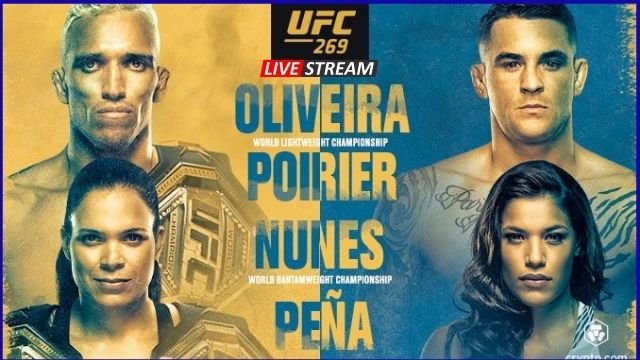 How to watch UFC 269 Live in the USA
It is important to know that UFC 269 is available through the PPV. In the US, you will want to tune into ESPN and purchase the PPV through ESPN+. ESPN+ subscribers just need to proceed with the PPV purchase. If you are a non-subscribers, you will need to subscribe to either a monthly or annual subscription.
ESPN+ also comes with a great deal. With UFC 269 Bundle that costs $84.98, you will attain the UFC 269 PPV, plus an annual subscription to ESPN+. ESPN Plus is available on multiple platforms. As long as you have a decent internet connection and a compatible device, you won't have any problem accessing the service.
Order the UFC 269 through the ESPN+ website. Follow the on-screen instructions to complete your order.
Live stream UFC 269: Oliveira vs Poirier in UK
The officials have confirmed that BT Sport will conduct the broadcast for the upcoming UFC 269. BT Sport is available on many devices including the PC, Laptop, Smartphone, Tablet, Web-based player, etc. If you are in the UK, rest assured that you will always have the option to watch your favourite UFC fighters in action.
Consider getting BT Sport Monthly Pass first then purchasing the PPV for UFC 269 and you are good to go by then. BT Sport App is also available for mobile device users. If you are up to watch the bout while on the go, consider downloading and install the app on your device. And VOILA, the option is reserved for you.
How to watch UFC 269 Online in Canada
Folks in Canada shouldn't worry because you will have plenty of options to get the PPV for the UFC 269. You can get the PPV from Telus, Roger, UFC Fight Pass, Videotron, Shaw, or Eastlink. If you are a subscriber of one of the services, you just need to proceed with the PPV.
For the UFC Fight Pass subscriber, you can stream all of the events, including the PPV. But through this platform, you will still need to pay the PPV in full price. The good thing here is that you can watch the other events for free including prelim card, early prelims, and UFC Fight Night.
Where to Watch UFC 269: Poirier vs Oliveira live in Australia
The officials of Australia have confirmed the available options for the UFC fans to watch the UFC 269 fight. You can choose one of these: Main Event, Fetch TV, UFC Fight Pass
Fight Pass indeed comes with such great content. You could take this option if your focus is only on the UFC events including the prelim card, early prelims, and UFC Fight Night. The UFC Fight Pass also delivers you the fantastic experience of the UFC fans.
You will get notifications and updates in real-time about what's going on before the UFC 269 takes place.
How to watch UFC 269 Online from anywhere?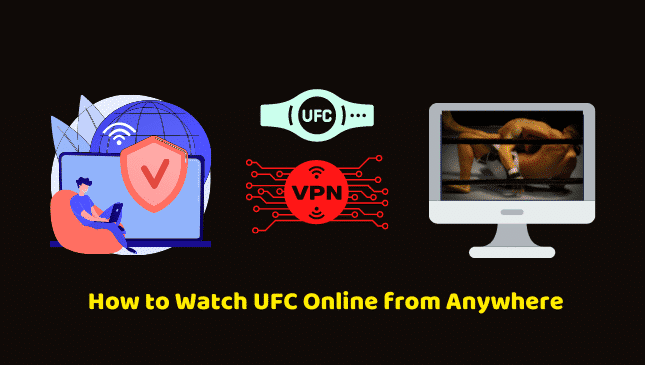 If you are asking this question, the answer is YES and NO. The NO answer emerges if you are outside the area of the coverage of your service. For instance, you are using the ESPN+ service that is only available in the US. You won't be able to use the service in Asian countries because of the geo-restriction policy.
It won't be surprising if you are experiencing the blackout if you are using your ESPN+ account outside the country. But it is not really a dead-end. You can still outsmart the system and get access to your service.
Here is where the VPN service (We Recommended ExpressVPN) enters to help. VPN -Virtual Private Network service allows you to connect to the desired country server which you can use to unlock the domestic service in the other country. So, for instance, you can connect to the US server to unlock the ESPN+ service if you are in Asian countries.
Understanding how the VPN works is very easy. Each of the VPN providers has its own guides to show you how to use their services to unblock the live streaming services in other countries. Focus on top-quality VPN services and you're good to go.
ESPN+ UFC 269 PPV Cost and Bundle
The PPV price is $64.99. But when it comes to purchasing from ESPN+, it could be a bit confusing for both the subscribers and non-subscribers. Here is how the pricing will go in a nutshell.
The PPV price in the US is $64.99. UFC 269 is available through PPV on ESPN+. You need to be the subscriber first before proceeding. You can choose either being the monthly subscriber or an annual subscriber.
For non-registrants, you could choose a monthly subscription or an annual subscription. But there is one much better option you could consider. The bundle price of the UFC 269 is $84.98. This bundle consists of the UFC 269 PPV Annual Subscription. You can save a lot of money if you pick the bundle.
Can I watch UFC 269 live stream free Online?
No! Although the officials have clearly said that there is no official free way to watch UFC 269, you can still watch it using the other ways.
If you are active in the social networking communities like Twitter or Reddit, you will easily find very kind users who are willing to share the links of the UFC 269 Live stream for free online. All you need to do is just follow the trustworthy and reliable communities and find those website links.
Note: UFC free stream websites are illegal and it is harmful to your device and security. We never recommended any UFC free streaming links.
Some bar or pub owners in your country are kind people. They are likely willing to share the spectacle with their guests.
Can I live stream UFC 269 on Reddit?
No! You can't watch UFC streams online via Reddit. It is a social community, not a streaming website. So you don't live stream UFC 269 on it. Reddit UFC Stream Banned and UFC takes a stand against global piracy.
but, You can as long as you find the right subreddit. Keep in mind that not all subreddits come with a safe link. So, I suggest you fortify your device with updated antivirus and security software just in case if you click the wrong link.
Only focus on the link which has positive reviews from the users. The Reddit community consists of trusted members. But there's still a risk that irresponsible people spread harmful links. Use this option at your own discretion.
What channel is UFC 269 on?
Here is the UFC 269 channel complete list worldwide. So, Find out UFC 269 channel from your location here:
Who are in the UFC 269 Fight Card?
Here is the UFC 269 full fight card list with weight class:
Main Card (10 PM ET, ESPN+ PPV)
Lightweight: Charles Oliveira (c) vs. Dustin Poirier
Women's Bantamweight: Amanda Nunes (c) vs. Julianna Peña
Welterweight: Geoff Neal vs. Santiago Ponzinibbio
Flyweight: Kai Kara-France vs. Cody Garbrandt
Bantamweight: Raulian Paiva vs. Sean O'Malley
Preliminary Card (8 PM ET, ESPN / ESPN+)
Featherweight: Josh Emmett vs. Dan Ige
Bantamweight: Dominick Cruz vs. Pedro Munhoz
Heavyweight: Augusto Sakai vs. Tai Tuivasa
Middleweight: Jordan Wright vs. Bruno Silva
Preliminary Card (6:15 PM ET. ESPN+ / UFC Fight Pass)
Middleweight: André Muniz vs. Eryk Anders
Women's Flyweight: Erin Blanchfield vs. Miranda Maverick
Flyweight: Alex Perez vs. Matt Schnell
Featherweight: Ryan Hall vs. Darrick Minner
Bantamweight: Randy Costa vs. Tony Kelley
Women's Flyweight: Gillian Robertson vs. Priscila Cachoeira
Also Check:
UFC 269 FAQ: You Need to Know
Where is the UFC 269?
The upcoming fight will take place at Gila River Arena in Glendale, Arizona, United States
What time is the UFC 269 Start?
Keep in mind that the officials would announce the time in local timing. It takes place at 10:00 PM ET in USA. Convert to your own time zone so that you won't miss the spectacle.
How can I bypass ESPN blackout Restrictions?
Yes, you can. Use a trustworthy and reliable VPN service (We recommended ExpressVPN) and connect to the US server to unlock the service.
How to Order UFC 269 PPV on ESPN?
You just need to go to the ESPN website, click "buy now" and follow the instructions until complete.
How much is the UFC 269 PPV?
The UFC 269 PPV costs $64.99.
Hope! You can watch UFC 269 live online from any location. Please Bookmark us for the Upcoming UFC event's latest updates & UFC News.