The Aussie knockout star Tai Tuivasa has amazed us again with the amazing KO in the latest fight that involves the fighter.
The fighter is popular due to the terrifying right hand bomb that mostly put his opponent to yield. And just as expected by his fans, he once again finished the latest fight with the incredible KO.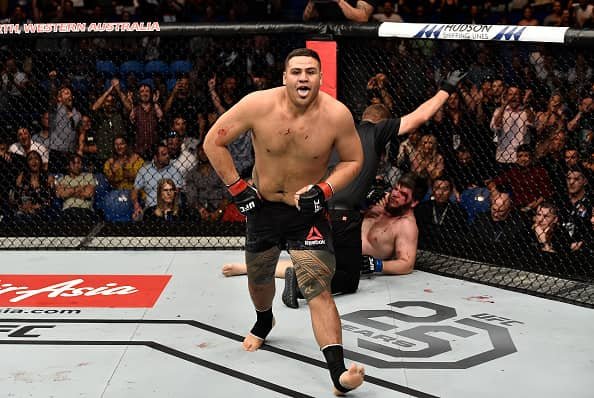 The UFC strong fighter Tai Tuivasa has once again won a proud fight card in las Vegas. His name is not a new thing in the heavyweight division. He also has such an impressive record during this time. In the latest fight, he managed to come out with his second win in the last five months. The latest victory was the 11th KO of his entire career.
Back in Las Vegas, Tuivasa took on Harry Hansucker and ended the match in just 49 seconds. The TKO was in the first round following two right hand bombs.
It shocked the world, literally. The bout where Tuivasa got into was the first fight under the main card that features Brunson vs Holland Fight Night. With such achievement, it makes the officials and experts consider him as a worthy fighter to be in the important UFC Fight Card.
Coming from western Sydney, he has a pretty great chance to be the contender in the division. Besides his right hand bombs, he is also a great gropper. At the latest fight, Tuivasa received a series of leg kicks. But then, those kicks created the windows of opportunity for him to sneak his right hand over the top of Hansucker's guard. As a result, Hansucker couldn't make it.
The first right hand bomb had blown Hansucker. But then, the second one which knocked him down brought Tuivasa to the victor.
Hansucker still defended and blocked some of the attacks from Tuivasa. But it was too late since Tuivasa was pretty much ready to finish the bout. With some kicks from the ground, Hansucker attempted to get away from the corner. But that didn't affect the bout too much because Tuivasa was already at the top of the performance.
Tuivasa didn't let the struggles from his opponent continue for a longer time. He was determined to finish the bout by landing some right hands. With such a situation, Herb Dean, the referee of the bout, decided to stop the fight because he thought Tuivasa's opponent would no longer contest.
Also read this – Julija Stoliarenko Collapsed during the Weight-In